Pears are one of the most versatile fruits you can buy. They come in a variety of shapes and sizes, and they can be eaten raw or cooked. Pears also make excellent sauces for roasted poultry, pork, and duck dishes.   
But how do you cut up these pears? What technique should you use to get them as close to how a restaurant might serve them as possible? Let's learn more about some of the different types of pears and how to cut them.
What are the different types of pears?
There are a few different types of pears, the most common of which is the European pear. Other types of pears include the Asian pear and the prickly pear.
The European pear is the most common type of pear. It has smooth skin and sweet, juicy flesh. The Asian pear is smaller than the European pear and has a crisper texture whereas the prickly pear is a type of cactus pear. It is covered in glochids or thorns and has tart, juicy flesh.
How to cut European or Asian pears
There are a few different ways to cut a European or Asian pear. Here are two common methods:
Method 1: Slice the pear in half from top to bottom with a sharp knife and then cut each half into quarters.
Method 2: Cut the pear in half lengthwise and then slice it crosswise into thin wedges.
No matter which method you prefer remember to discard the core and seeds.
How to cut prickly pears
Cutting a prickly pear is slightly more challenging and requires a pair of kitchen gloves. The sharp glochids or thorns of the pear can hurt you if not handled with care so remember to protect your hands.
Put the prickly pear on a flat surface and cut half an inch off each end. Then, make a vertical slit into the pear skin a quarter of an inch deep. Pull the skin away by inserting the tip of your knit into the fruit and cut the inner flesh into cubes or slices. To make ball-shaped bites, use a melon baller.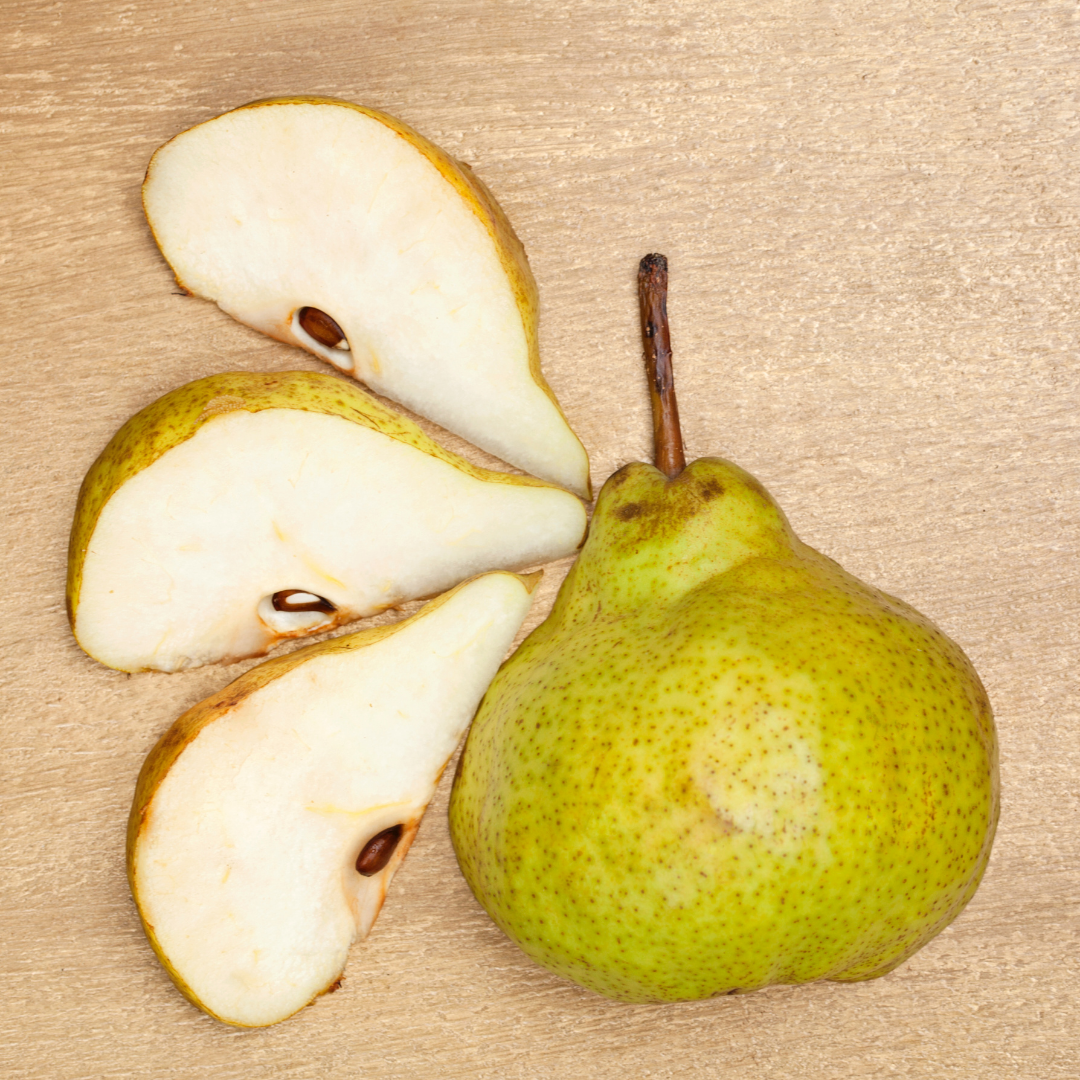 Simple pear recipes to try at home
Pears can be used in both sweet and savory dishes. They are a good source of fiber, and they are a healthy option when compared to other sweet snacks like candy or cake. Listed below are some crowd-pleasing pear recipes.
Prickly pear lemonade
Prickly pear lemonade is a refreshing drink that combines the sweet and tart flavors of pears and lemons. It's perfect for a hot summer day, and it's easy to make at home with just a few simple ingredients.
Ingredients:
1 cup fresh prickly pear fruit juice

1/2 cup fresh lemon juice

1/4 cup simple syrup (liquid sweetener)

Club soda or seltzer water
Instructions:
Mix prickly pear juice, lemon juice, and simple syrup in a pitcher.

Add club soda or seltzer water and stir to combine.

Serve over ice.
Poached Asian pears
Poached Asian pears are a healthy and delicious dessert. They are perfect for a quick and easy after-dinner treat.
Ingredients:
1 cup water

1/4 cup honey

1/4 cup white vinegar

1 cinnamon stick

1 star anise

4 cloves

1/2 teaspoon salt

3 firm Asian pears, peeled and cored
Instructions:
Prepare your pears – peel the skin, discard the core, and slice into segments.

 Combine the water, honey, vinegar, cinnamon stick, star anise, cloves, and salt in a medium saucepan over medium heat. Bring to a simmer.
Add the pears and simmer until tender, about 10 minutes.

Remove the pears from the poaching liquid and let cool slightly before serving.
European pear tart
Pear tarts are usually served fresh and can be eaten either cold or warm. Some variations of the pear tart also include cream or custard.
Ingredients:
1 puff pastry sheet

1 egg

1/4 cup sugar

1 tablespoon cornstarch

1/2 teaspoon cinnamon

2 tablespoons butter, melted

3 pears, peeled and sliced

1/4 cup apricot jam

1 tablespoon brandy
Instructions:
Preheat oven to 375 degrees.

On a lightly floured surface, roll pastry to a 1/8-in.-thick sheet. Trim even with the edge of the pan.

Line the bottom and sides of the pan with pastry. Retrim the pastry to size. Prick pastry several times with a fork. Bake for 8 minutes. Cool on a wire rack.

In a small bowl, whisk together egg, sugar, cornstarch, and cinnamon.

Pour butter over crust. Arrange pear slices. Pour egg mixture over pears.

Bake for 25 minutes. Cool on a wire rack.

In a small saucepan, heat apricot jam and brandy over low heat, stirring occasionally, until smooth.

Brush jam mixture over tart. Cool before serving.
Which pears do you like best?
Pears are a delicious and healthy fruit that can be enjoyed in many different ways. Whether you were wondering how to cut a cactus pear, or just wanted some inspiration for your next pear dish, we hope this article has provided some great ideas for how to enjoy this highly versatile fruit.